We believe that everyone has the right to express and protect themselves online, which is why we want to strengthen the interaction between the LGBT community and relevant governments. An organization called PATH with the projects "Rainbow Village" and "Sexy girl" is a typical example. "Rainbow Village" and "Sexy Girl" are initiatives of Healthy Markets project, planned and developed by PATH. The project is funded by the US Agency for International Development and the US President's Emergency Relief Fund for HIV/AIDS. Together with public and private partners, and community groups, the project creates a modern market for HIV prevention goods and services in Vietnam. 
Vietnamese LGBT+ community is at high risk of HIV infection. In urban areas, HIV infection rate due to making love among gay men and among transgender women is estimated at 18 percent. There are more than 250,000 people living with HIV in the country, but only nearly half are receiving treatment while an estimated one-third are unaware that they have HIV. According to a study by the United Nations, almost 130 million condoms were sold in Vietnam in 2014, but about a quarter of these was of poor quality.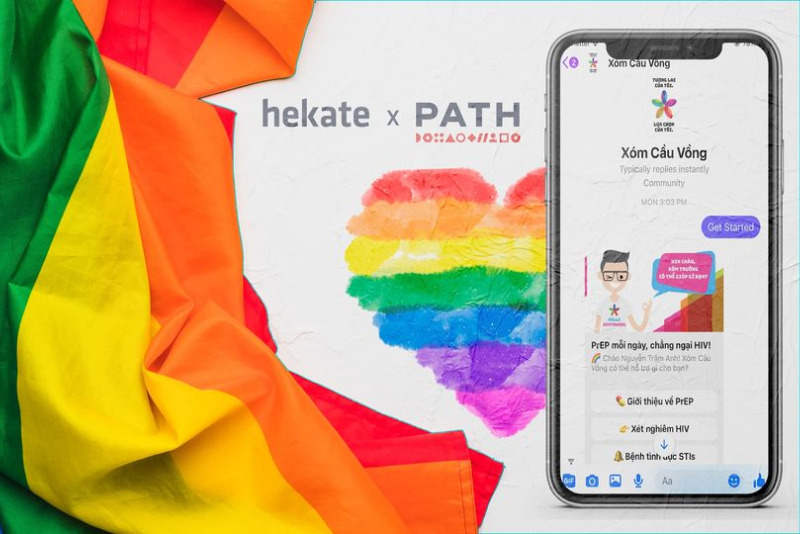 That's why the chatbot projects "Rainbow Village", "Sexy Girl" and the collaboration between Hekate and PATH was introduced. For now, when getting access to these 2 pages, visitors can send chatbots HIV-related questions and receive expert advice such as information about pre-exposure prophylaxis (PrEP) wherever and whenever. If more detailed information is required, visitors are automatically directed to one of the trained admins. Since its implementation in late 2018, the chatbot has sent out more than 9,300 responses to 1,162 users between October 2018 and September 2019. 
"Rainbow Village", "Sexy Girl" chatbots are built on the most basic chatbot platform so that they are friendly to users. These chatbots interact with users through a set of predefined questions and keep responding until answers satisfy users. In addition, the chatbot can ask users to make choices from a predefined list or menu so that it can have a deeper understanding of what the customer is looking for. 
Individuals from the LGBT+ community should feel safe and accepted wherever they are, both in the real world and online. That is why Hekate continues to conduct research and develop more artificial intelligence solutions to improve the lives of this community. We hope to be able to accompany them in voicing their opinions about human rights because we believe that everyone deserves to be protected and loved.